New film reveals fate of Chinese survivors of Titanic
---
The author : mike Click : Time :2017-08-22
---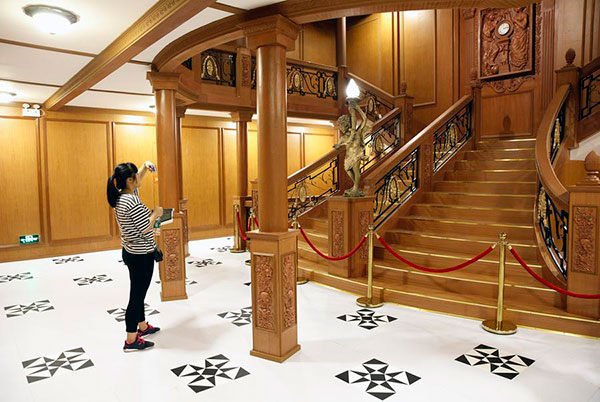 A visitor takes photos in front of a replica stairway at an exhibition displaying cultural relics retrieved from the sunk vessel of Titanic in Guangzhou, Guangdong province, June 16, 2017. [Photo/Xinhua]

A new documentary by a US film-maker will bring to light the story of six Chinese passengers who survived the sinking of the Titanic.
The film, The Six, to be released next year, explores the identity of the six men and what happened to them during and after the wreckage.
Steven Schwankert, the documentary-maker, told the Belfast Telegraph: "That huge vessel that came out of Belfast is the alpha and the omega of shipwrecks. This isn't just a Western story, it's a global story. And now, a Chinese story."
Eight Chinese passengers from Guangdong and Hong Kong were on board the Titanic, all of whom were sailors and found themselves out of work because of a coal strike in Britain, according to the Encyclopedia Titanica, a website which contains extensive Titanic facts, history and biography.
The Chinese sailors were the largest group of non-European or north American passengers on the luxury cruise ship, which struck an iceberg and sank on its maiden voyage from Southampton to New York resulting in the loss of 1,500 of its 2,200 passengers and crew in 1912.
The Chinese passengers' names are listed on the manifest as Ali Lam, Len Lam, Lee Bing, Fang Lang, Chang Chip, Choong Foo and Ling Hee. All travelled on single tickets.
Len Lam and Ling Hee died but the others survived. Fang Lang was found on a floating piece of the wreckage by other survivors in a lifeboat. Four others made it onto one lifeboat and the remaining man made it onto another boat.
When they arrived in New York they were detained before joining the freighter Annetta, bound for Cuba, which was their original intention.
The last evidence of the Chinese passengers' life stories were their claims against the owners of the Titanic. Chip Chang filed for $177, Fang Lang, for $137, Bing Lee $99.34 and Ling Lee's wife filed for $91.05 for the loss of her husband.
Schwankert said, "Their story is actually one of courage and of quick thinking. We don't accept the history as it is presented - we don't believe these guys just disappeared."
Aidan McMichael, chairman of Belfast Titanic Society, said: "Everybody who died or survived on that ship was an individual, so it's good that whenever information comes out that can be sourced that is positive about those people because it means those stories are brought back to life."